São Paulo is the largest city in Brazil and one of the largest on the planet! This, however, is not a reason to intimidate you, without knowing where to start.
To help you, we have made a list of the 10 places you should not miss! Most of the listed attractions are easily accessible via public transport, taxi, or using a mobility app (Uber and 99app are the most used in São Paulo).
But if you find that visiting all of these places can be a bit tricky, don't worry! We offer several itineraries through São Paulo, for the most varied tastes. Contact us for more information or visit our São Paulo Tours page on our website.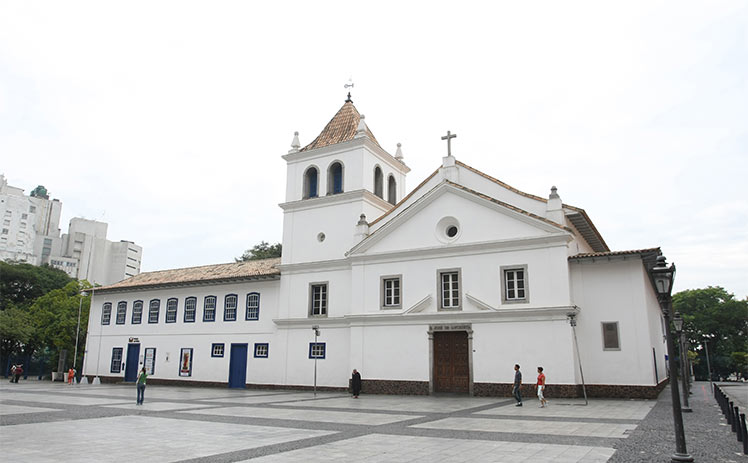 The site belongs to the Company of Jesus (Jesuits) and it is where the city of São Paulo was established, in the year 1554.
The complex houses a museum and a cafeteria, where the tables are arranged next to a historic wall, built in the 16th century, in rammed earth.
An enclave of peace and tranquility in the middle of the bustling historic center of São Paulo city that is well worth visiting.
Address: Praça Pateo do Collegio, 2 – Centro Histórico
Ph+ 55 11 3105-6899
Opens from Tuesday thru Sunday, from 9am-3pm
Website: https://www.pateodocollegio.com.br/
2. Copan building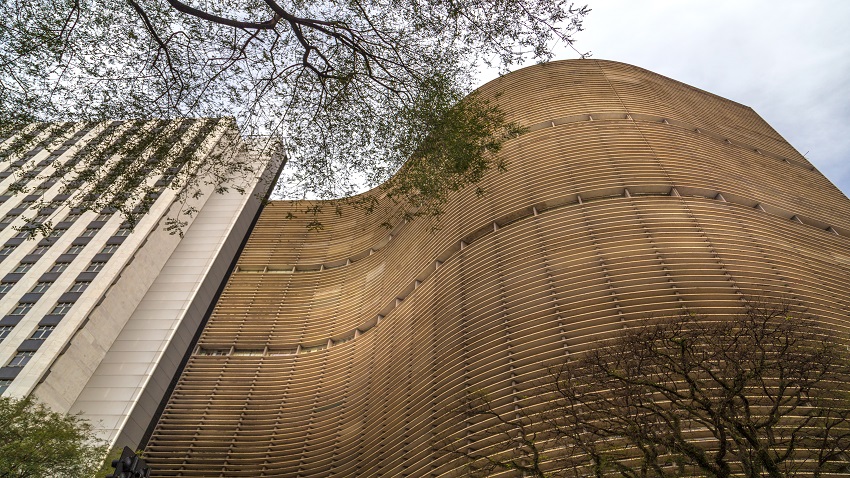 One of the icons of São Paulo city, the Copan building was designed by the award-winning architect Oscar Niemeyer and opened in São Paulo in the 1960s. For many years, it was the largest reinforced concrete structure in the world, famous for its "S" shape" similar to a waving flag.
With a population of approximately 5,000 inhabitants, the building has apartments of different lengths, having more than 100 employees, a fire brigade and its own postal code for correspondence.
You can visit the building, going up to the viewpoint on the 32nd floor, and enjoy an incredible view of São Paulo, from 115 meters high.
Address: Avenida Ipiranga, 200 – República
Ph+ 55 11 3259-5917
Opens from Monday thru Friday, at 10h30am anda t 3h30pm
This is the most famous and beloved market in the city of São Paulo, an excellent place to taste and learn more about the local and brazilian gastronomic variety.
The building was completed in 1932 but operations began only the following year due to the Constitutionalist revolution, a time when the building was used as a deposit for arms and ammunition.
You can take advantage of the visit to try one of the famous typical snacks, such as the mortadella sandwich or the cod pastry, and also buy herbs, spices, sausages, cereals and other delicacies.
Address: Rua da Cantareira, 306 – Centro Histórico
Ph+ 55 11 3326-6664
Opens daily, from 6am-6pm
Website: https://portaldomercadao.com.br/
4. Beco do Batman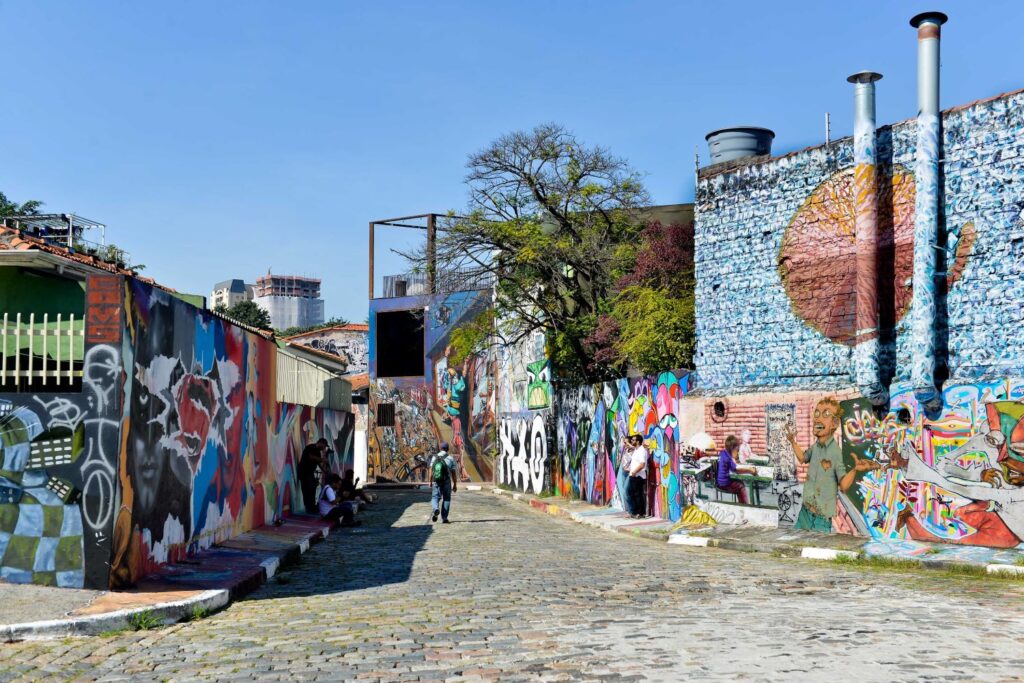 São Paulo is one of the Street Art world capitals and Beco do Batman is an unmissable attraction for everyone interested in the subject.
Considered the cradle of Urban Art in São Paulo, the place has had artistic murals since the 1980s.
Enjoy and extend your visit to the nearby streets, which also have murals by established and emerging artists. The region is also served by snack bars, restaurants and art shops, which makes the visit even more special.
Address: Rua Medeiros de Albuquerque, 82 – Vila Madalena
Opens every day, 24 hours
It is no wonder that this is the most beloved and famous park in São Paulo. With over 180 hectares in size, there are many reasons to get to know it, whether to travel by bike (there is a bike rental center on site), or to visit one of the famous museums, such as MAM and the Afro-Brazilian Museum.
Take the opportunity to observe the architectural complex designed by Oscar Niemeyer, a Brazilian architect with worldwide projection and winner of the Pritzker Prize, considered the "Oscar" of Architecture!
Address: Avenida Pedro Álvares Cabral – Vila Mariana
Ph+ 55 11 5574-5045
Opens daily, from 5am-11h59pm
Website:https://www.prefeitura.sp.gov.br/cidade/secretarias/meio_ambiente/parques/regiao_sul/index.php?p=14062
6. Paulista Avenue
Avenida Paulista was developed in the late 19th century, as a place of residence for the local industrial elite. Over the years it has become an important financial center and today it is considered a cultural hub of the city, housing museums, cultural centers, bookstores, movie theaters, restaurants, among others.
On Sundays, vehicle traffic is blocked and the avenue is taken by pedestrians who walk among the various artists and musical groups that perform along its 3 kilometers in length.
Address: Avenida Paulista – São Paulo
Opens every day, 24 hours
One of the oldest museums in São Paulo, it is located in a building of neoclassical influence, where the School of Arts and Crafts of São Paulo used to work.
It has a collection of paintings and sculptures that range from the classical period, passing through the modernist brazilian movement, to the most established contemporary artists.
In the 1990s, the building underwent an intervention by the architect Paulo Mendes da Rocha which made the building more fluid and functional for the exhibitions it receives.
Address: Praça da Luz, 2 – Luz
Ph+ 55 11 3324-1000
Opens from Wednesday to Monday, from 10am-6pm
Website: http://pinacoteca.org.br/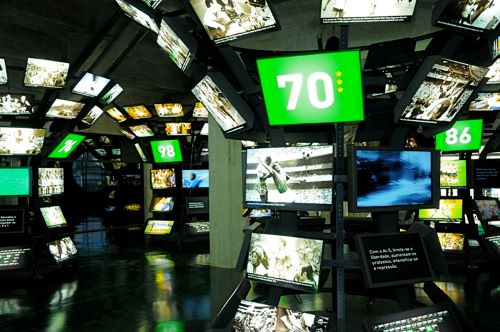 It is only fair that the country of Soccer has a museum dedicated entirely to the theme! But if you don't enjoy the sport a lot don't be afraid, the visit is still worth it!
A totally interactive and digital museum, designed to please all audiences and that transmits brilliantly why Soccer is part of the national identity.
Address: Praça Charles Miller, s / n – Pacaembu
Ph+55 11 3664-3848
Opens from Tuesday to Sunday, from 10am-7pm
Website: https://museudofutebol.org.br/
9. Liberdade quarter
São Paulo has the largest community of Japanese and descendants from all over the world and the Liberdade neighborhood is home to these people! A place with many options of restaurants, shops and markets, it also hosts an arts, crafts and typical food fair on weekends!
Make sure to visit the Museum of Japanese Immigration and learn more about this fantastic story of a people who contributed enormously to the development of Brazil!
Address: Praça da Liberdade – São Paulo
Open every day, 24 hours
You probably heard that São Paulo is the largest city in Brazil and South America, but have you been told that all this concrete jungle is surrounded by forests, rivers and lots of green areas?
The Cantareira State Park is part of the green belt of the city of São Paulo, a preservation area located approximately 15 kilometers from the city center, where you can see the fauna and flora of the Atlantic Rainforest, one of the most diverse and important ecosystems from all over the world.
Address: Rua do Horto, 1799
Ph+ 55 11 2203-0115
Opens from Wednesday to Sunday, from 8am-4pm
Website: https://ingressosparquespaulistas.com.br/parques/pe-cantareira-pedra-grande/